GREAT OPPORTUNITY FOR YOUR STUDENT RESIDENTS AND FOR YOU!
Your student residents could receive an Educational Scholarship!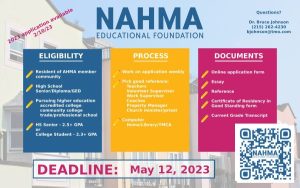 The 2023 NAHMA Educational Foundation scholarship season is open, and the digital application is now available online. The application has been revised to make it more user-friendly and to secure more completed submissions. This will be the 17th consecutive year the foundation will make scholarships available to worthy student residents.
In 2022, the foundation awarded 96 student-resident scholarships. Each scholarship is worth $3,500; the total scholarship money awarded last year was $336,000. More than 75% of eligible applicants have received scholarships!
**Students whose applications are accepted will also be entered in a regional drawing with a PAHMA prize of $100 and their property management company will receive a complimentary registration to our Annual Fall Educational Conference at Seven Springs Mountain Resort in October!
"We encourage application from any resident of an AHMA-member community who is a high school senior, holds a high school diploma, or a high school equivalency diploma holder and intends to continue, or begin, their pursuit in higher education this year. Higher education includes attendance at an accredited college, university, community college, trade/professional school, or institute. We invite all who are eligible to apply for the scholarship grants to be awarded in 2023," said NAHMA Educational Foundation Chairperson Alicia Stoermer Clark. "The NAHMA Educational Foundation is one of only a few of its type in the nation. We are very proud of the impact the scholarship program has made in the lives of many from our AHMA-member affordable housing communities."
***DEADLINE TO SUBMIT: MAY 12th 10pm EST***
Now Accepting Scholarship Applications Online
CLICK HERE TO APPLY (Must apply online)
Please assist the foundation in promoting the scholarship program to your residents by downloading and sharing the promotional flyers (English version, Spanish version) available on the Educational Foundation's webpage. The foundation is hopeful that 2023 will bring in more completed applications than in any previous years the program has existed.